Non-Surgical Neck Lift in Edmonton: Procedure and Benefits
Did you know that your neck is one of the first body parts to show aging signs? It's easy to forget about this area during our skincare routine and, often, we end up not applying any moisturizer or SPF on the area. As a result, we start to notice the dreaded turkey neck showing.
Fortunately, having to go under the knife to fix problems like this is a thing of the past. Nowadays, there are nonsurgical options that can be done quickly, with fast results and little to no downtime.
Keep reading as we explain the nonsurgical neck lift and go through some of its amazing benefits!
The Procedure, Explained
When you're young, your body produces a protein named collagen, which is what keeps your skin elastic and tight.
However, once you turn 25, your collagen production starts to decrease.
This, combined with lifestyle factors, causes your skin to start sagging and aging signs, like wrinkles and fine lines, to start appearing.
During a nonsurgical neck lift, a professional uses lasers to boost your production of collagen, which helps to tighten and rejuvenate the skin on your neck, under chin and jawline.
As mentioned before, this is quite a quick treatment: it usually takes 45 minutes or less to complete. Although you'll notice results from your first session, our advice is that you get treatments done every four to six weeks, depending on how severe your skin laxity is.
But before you even think about booking your first session, you probably want to know exactly what happens during those 45 minutes.
Before we get to the action, we want to make sure that a neck lift is the right procedure to achieve your desired results, so we'll always have an initial discussion with you.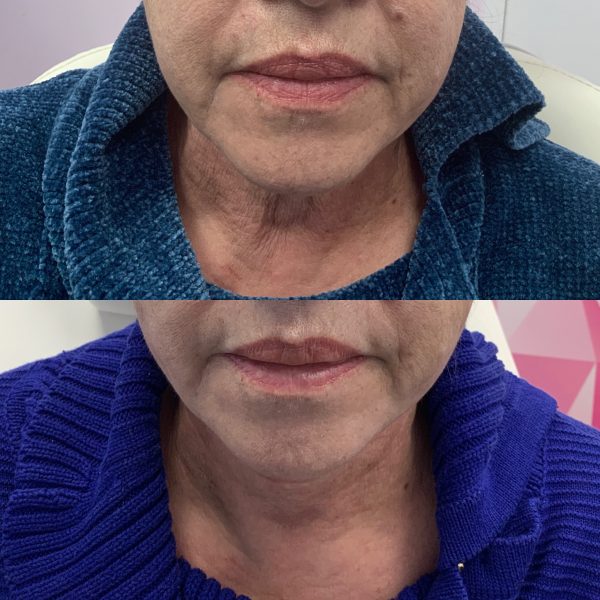 Once everything is settled, and we decide to move forward, we use the Fotona Laser 4D treatment, which includes four steps:
1.Smooth® Mode
We start with an oral treatment, where we use a non-ablative laser on your inner cheeks and lips to increase collagen production. This first step, which targets the area between your lips and your chin, works almost like a filler, so you'll notice some more volume on the treated areas.
2.FRAC3® Laser Rejuvenation
During the second phase, we use a fractional laser that targets areas of your skin that are damaged and fixes deep skin imperfections like sunspots, noticeable veins, flushing, wrinkles, and fine lines.
3.PIANO® Mode
The third step of the Fontana 4D treatment focuses on tightening your skin. By quickly bulk heating your skin, we're able to boost your collagen synthesis, which promotes better skin elasticity.
SupErficial® Mode
Finally, we perform a laser peel to remove any dead skin cells, eliminate the remaining surface imperfections and make sure the whole area looks smoother and healthier than before.
Other Treatment Options
The Fotona method might not be for everyone. Thankfully, there are other treatment nonsurgical options to lift and tighten the skin on your neck:
Ulthera, which uses ultrasound energy to stimulate collagen production.
Sculptra fillers, which is a way of injecting lost collagen.
PDO threads, which use Polydioxanone threads.
Benefits of a Non-Surgical Neck Lift
By now, you know that a nonsurgical neck lift will quickly and efficiently eliminate any skin imperfections. So the most obvious benefit is that you'll look younger and fresher, and that will make you feel a lot more confident in your skin.
But there are even more benefits to this procedure.
Note: We'll be focusing on the benefits of the Fontana method, but most of them also apply to the other three treatment options we mentioned.
It Doesn't Hurt
We've all heard that beauty hurts, but that's not always the case: during your nonsurgical neck lift, you won't feel any pain. At most, you'll feel some discomfort. This is, after all, a new and unusual experience for your skin.
This alone gives you a lot more peace of mind, doesn't it?
It's a Lot More Cost-Efficient
Plastic surgery can be quite expensive. If you're on a tight budget, going for the nonsurgical method is the right thing to do, as prices are much lower (and the results aren't compromised).
There's No Recovery Time
If you've been researching this procedure for a bit, you've probably read that you can even get it done during your lunch break from work.
Not only is this procedure fast, but you can just go back to your regular life once you're done. The only possible side effects of a nonsurgical neck lift are some swelling, redness and slight irritation, but even those disappear in a matter of one or two hours.
It Doesn't Require Much Aftercare
Now that you know how minimal the side effects can be, it's easy to understand why you won't have to worry much about the aftercare. Moisturize the area and apply some SPF every day and you'll be all good!
It's Not as Risky as a Surgical Neck Lift
Going under the knife always involves a certain level of risk, whether it's due to infections, anesthesia issues or other unexpected challenges. Even if it is a common surgery or if it's performed by top-tier surgeons. So, the fact that this alternative in non-invasive makes it automatically safer.
The Results Are Natural-Looking and Long-Lasting
We've all heard about (and seen the results of) surgical cosmetic procedures that ended up looking very unnatural and that's something that keeps a lot of people from getting plastic surgery done.
Since this treatment isn't as aggressive on your skin and you won't have any scars afterward, the final results end up looking very natural.
Plus, they tend to last for one or two years. 45 minutes under the laser for such long-lasting benefits seem more than worth it to us!
Look Good, Feel Great!
Nowadays, there's still some stigma associated with beauty procedures, whether they're surgical or not.
For some reason, they're sometimes seen as shallow or even wrong. If this mindset is what's been preventing you from finally taking care of your saggy skin, it's time to change that!
After all, what's wrong with workings towards becoming the best version of yourself?
Taking care of your image and fixing things that bother you will do nothing but boost your self-esteem and trust us, that'll show in every aspect of your life.
If you want to know more about the nonsurgical neck lift, make sure to book a free consultation. We'll be more than happy to answer all your questions!